Varicose veins are a common condition that affects millions of people worldwide. They occur when the veins in the legs become swollen and enlarged, causing discomfort, pain, and unsightly bulges on the skin's surface.
While varicose veins can be treated through lifestyle changes, compression stockings, or surgery, Radiofrequency Ablation (RFA) is emerging as a minimally invasive alternative that offers patients significant benefits.
RFA is a technique that uses thermal energy to damage the walls of problematic veins, causing them to collapse and close off. This procedure is typically performed under local anesthesia in an outpatient setting and requires minimal recovery time.
Patients who undergo RFA for varicose veins report improved symptoms such as pain relief, reduced swelling and inflammation, and enhanced mobility.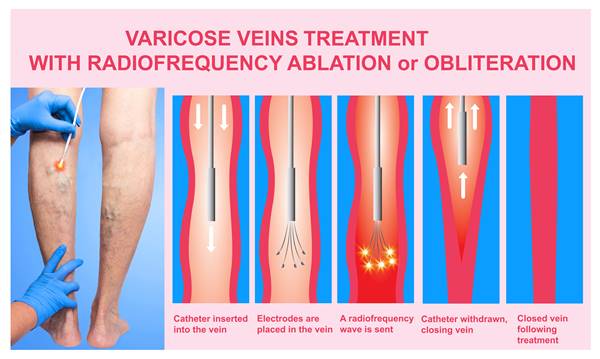 How RFA Works: The Procedure
Radiofrequency Ablation (RFA) is a minimally invasive procedure that uses heat generated by radiofrequency energy to destroy the vein walls and close the varicose veins.
Before the procedure, local anesthesia is administered to numb the area around the affected vein.
The surgeon then inserts a small catheter into the vein, which is guided by ultrasound imaging. Once in place, the catheter delivers radiofrequency energy to heat up and collapse the vein walls.
As a result, blood flow is redirected to healthy veins nearby.
The entire procedure usually takes less than an hour and patients can go home on the same day.
After RFA, patients are advised to wear compression stockings for several days and avoid strenuous activities for at least a week.
There may be some discomfort or bruising at the treatment site, but most people are able to resume their normal activities within a few days.
Benefits And Risks Of Rfa For Varicose Veins
Radiofrequency Ablation (RFA) has become a popular treatment for varicose veins due to its effectiveness and minimally invasive nature. The benefits of RFA include reduced pain and discomfort, faster recovery time, and improved cosmetic appearance of the affected area.
Unlike traditional vein stripping surgery, RFA does not require general anesthesia or a hospital stay, making it a more convenient option for patients.
However, as with any medical procedure, there are risks associated with RFA. The most common side effects include bruising, swelling, and numbness in the treated area. In rare cases, nerve damage or blood clots can occur. It is important to discuss these risks with your healthcare provider before undergoing RFA.
Overall, the benefits of RFA for varicose veins outweigh the potential risks for most patients. It is a safe and effective alternative to traditional surgical methods that can provide long-lasting relief from painful varicose veins.
Who is a Good Candidate for RFA?
Radiofrequency Ablation (RFA) is a minimally invasive procedure that can effectively treat varicose veins. However, not everyone is a good candidate for this treatment.
Generally, people who have large, twisted varicose veins are the best candidates for RFA. Additionally, individuals who experience pain or discomfort due to their varicose veins may benefit from this procedure.
Patients with underlying medical conditions such as heart disease or blood clotting disorders may not be suitable candidates for RFA. Pregnant women and individuals with skin infections or allergies to anesthesia should also avoid this treatment.
Ultimately, the decision to undergo RFA should be made in consultation with a qualified healthcare provider who can evaluate each patient's individual needs and health status. With proper screening and careful consideration, many people can safely and effectively treat their varicose veins using radiofrequency ablation.
What To Expect During And After The Procedure
During the radiofrequency ablation (RFA) procedure for varicose veins, patients can expect to be awake and alert, but may receive local anesthesia to numb the area being treated. The procedure itself typically takes less than an hour and involves inserting a small catheter into the affected vein. Radiofrequency energy is then used to heat and close off the vein, redirecting blood flow to healthier veins in the leg.
After the RFA procedure, patients may experience mild discomfort or bruising at the site of treatment. Compression stockings are often recommended for several days following the procedure to help reduce swelling and improve circulation. Patients should avoid strenuous activities for at least a week after RFA.
Most patients can resume normal activities within a day or two of undergoing RFA for varicose veins. Results are typically visible within a few weeks as symptoms such as pain, swelling, and discomfort in the legs improve.
Comparison of RFA with other Varicose Vein Treatments
Radiofrequency Ablation (RFA) is a minimally invasive procedure that uses heat generated by radio waves to close varicose veins. Compared to traditional treatments such as vein stripping and ligation, RFA has several advantages.
First, it is less invasive and requires only a small incision in the skin. This means that patients experience less pain and have a shorter recovery time.
Second, RFA is associated with fewer complications such as bleeding and infection.
Third, RFA has a higher success rate with fewer recurrences of varicose veins compared to other treatments.
Another advantage of RFA over other treatments is its ability to treat large varicose veins that cannot be treated by sclerotherapy or laser treatment.
However, some studies have shown that RFA may be more expensive than other treatments, which may limit its availability for some patients.
Is RFA Right for You?
In conclusion, radiofrequency ablation (RFA) is an effective and safe option for treating varicose veins. It is a minimally invasive procedure that involves using heat to close off the affected vein, allowing blood to flow through healthier veins. RFA has been shown to have a high success rate and a low risk of complications compared to traditional surgical treatments.
However, not everyone with varicose veins is a candidate for RFA. It is important to consult with a qualified healthcare provider to determine if RFA is the best course of treatment for your specific case. Factors such as the size and location of the affected vein, overall health status, and personal preferences should be considered when making this decision.
Overall, RFA can provide long-term relief from the symptoms of varicose veins and improve overall quality of life for those who are good candidates for this procedure.