Varicose veins are a common condition that affects a large number of people, especially women. While there are several treatments available to manage varicose veins, lifestyle changes can play an essential role in preventing and managing the condition.
A sedentary lifestyle, obesity, and prolonged standing or sitting can all contribute to the development of varicose veins. Thus, regular exercise and maintaining a healthy weight can help prevent varicose veins from developing or getting worse.
Additionally, wearing compression stockings during prolonged periods of standing or sitting can improve blood flow in the legs and reduce symptoms of varicose veins. Avoiding tight clothing and high heels can also help alleviate symptoms. Lastly, adopting a diet rich in fiber and low in salt can reduce water retention in the body and decrease swelling associated with varicose veins.
Exercise for Varicose Veins
Exercise can be a helpful lifestyle change for those with varicose veins. Walking is one of the best exercises for improving blood flow in the legs. It strengthens leg muscles and helps pump blood up towards the heart, reducing swelling in the veins.
Cycling and swimming are also low-impact exercises that can improve circulation without putting too much strain on the legs.
Yoga and Pilates are great options as well, as they focus on strengthening leg muscles and improving flexibility. One of the primary advantages of yoga barre is improved strength and flexibility. The combination of yoga postures with the use of a ballet barre allows for targeted muscle engagement, leading to increased muscle tone and enhanced range of motion. Read more about Yoga Barre at Retreatformeditation.com
It is important to avoid high-impact exercises like running or jumping, as these can worsen varicose veins by putting excessive pressure on them.
Additionally, resistance training should be done with caution, using lighter weights and avoiding exercises that put pressure on the legs.
Overall, regular exercise combined with other lifestyle changes like maintaining a healthy weight and wearing compression stockings can help reduce symptoms of varicose veins and improve overall vein health.
Diet Changes for Varicose Veins
Diet plays an essential role in managing varicose veins. Eating a well-balanced diet rich in fiber, vitamins, and minerals can help improve circulation and reduce inflammation. It is recommended to add more fruits and vegetables to your diet, especially those high in antioxidants such as berries, leafy greens, and citrus fruits. These foods can help strengthen the walls of blood vessels and prevent further damage.
Incorporating lean proteins such as fish, chicken, and beans can also be beneficial for varicose veins. These foods contain amino acids that aid in the production of collagen, which helps keep blood vessels healthy.
On the other hand, it is best to avoid processed foods that are high in salt and sugar. These types of foods can cause water retention and inflammation, making varicose veins worse.
Overall, adopting a healthy diet that promotes good circulation can help manage varicose veins symptoms and improve overall vascular health.
Compression Stockings and Clothing for Varicose Veins
Compression stockings and clothing are an effective treatment for varicose veins. They work by applying pressure to the legs, which helps to improve blood flow and prevent blood from pooling in the veins. Compression stockings come in different levels of compression, with stronger compression being more effective for severe cases of varicose veins. They should be worn throughout the day and removed at night.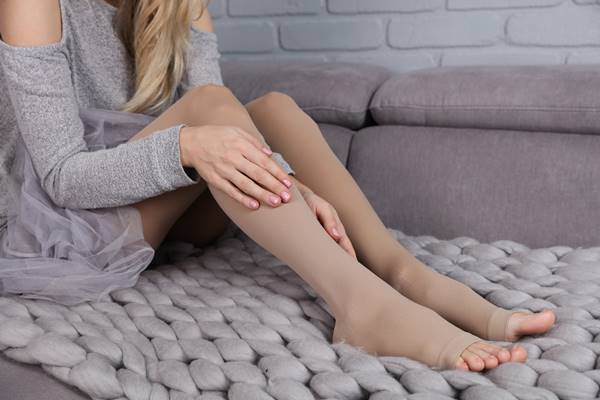 Compression clothing, such as leggings or socks, can also be beneficial for those with varicose veins. These garments apply pressure to the legs and can help improve blood flow. However, it is important to ensure that they fit properly and do not restrict movement or cause discomfort.
It is important to note that compression stockings and clothing do not cure varicose veins but can help manage symptoms and prevent further complications. It is recommended to consult with a healthcare professional before using compression stockings or clothing as a treatment option.
Other Lifestyle Changes to Manage Varicose Veins
In addition to exercise and weight management, there are several other lifestyle changes that can help manage varicose veins.
One important change is to avoid standing or sitting for long periods of time. If your job requires prolonged sitting or standing, take frequent breaks and walk around to promote blood flow.
Elevating your legs at the end of the day can also help reduce swelling and discomfort.
Finally, making dietary changes such as reducing salt intake and increasing fiber consumption can also be helpful in managing varicose veins. Salt can cause water retention and swelling, while fiber promotes healthy digestion and can reduce constipation-related strain on veins in the lower body.