Diagnosis of Varicose Veins typically involves a physical examination of the affected area, including inspection and palpation.
The healthcare provider may also ask the patient to describe their symptoms, such as pain, swelling, or itching. In some cases, imaging tests may be ordered to get a better look at the veins and assess blood flow. These tests may include an ultrasound or venography.
It is important for healthcare providers to accurately diagnose varicose veins in order to determine the best treatment plan for each individual patient. In some cases, varicose veins may be a sign of a more serious underlying condition, so it is important for patients to seek medical attention if they suspect they have varicose veins.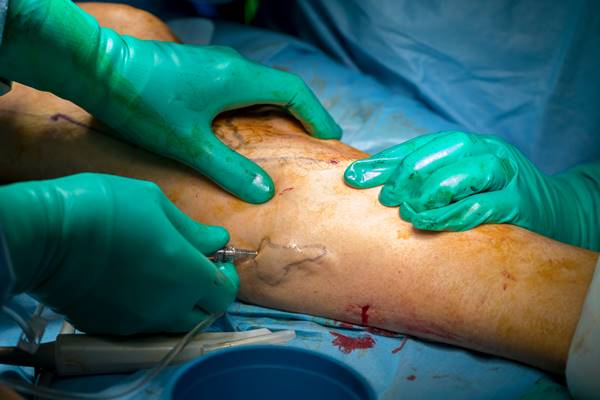 Conservative Treatment Options For Varicose Veins
Conservative treatment options for varicose veins involve lifestyle changes and non-invasive therapies that aim to alleviate symptoms and prevent the condition from worsening.
One of the most effective conservative treatments is regular exercise, which improves blood circulation and strengthens leg muscles.
Compression stockings are also recommended to help reduce swelling and discomfort in the affected area.
Elevating the legs while resting or sleeping can also provide relief, as it reduces pressure on the veins.
Other conservative treatments include maintaining a healthy weight, avoiding prolonged standing or sitting, and keeping hydrated by drinking plenty of water. While these treatments may not cure varicose veins completely, they can significantly improve symptoms and prevent further complications.
Minimally Invasive Treatment Options For Varicose Veins
Minimally invasive treatment options for varicose veins have revolutionized the way we approach this condition.
Endovenous laser therapy (EVLT) is a popular option that involves using a laser fiber to heat and seal off the affected vein, causing it to eventually disappear.
Another option is radiofrequency ablation (RFA), which uses thermal energy to close the vein.
Sclerotherapy involves injecting a solution directly into the vein, causing it to collapse and eventually fade away.
Foam sclerotherapy is a variation of this technique that uses foam instead of liquid solution. These treatments are performed on an outpatient basis and require minimal downtime, making them an attractive option for those with busy lifestyles.
Surgical Treatment Options For Varicose Veins
Surgical treatment options for varicose veins are typically reserved for severe cases that do not respond to more conservative measures.
One option is vein stripping, which involves making small incisions in the affected area and removing the damaged vein.
Another option is ambulatory phlebectomy, which involves making tiny incisions to remove smaller varicose veins close to the surface of the skin.
Recovery And Follow-Up Care After Varicose Vein Treatment
After undergoing varicose vein treatment, patients can expect a relatively quick recovery period. Most individuals are able to resume their normal activities within a few days, although strenuous exercise and heavy lifting should be avoided for several weeks.
Compression stockings may need to be worn for a period of time following the procedure to help reduce swelling and promote healing. It is important for patients to follow any specific instructions provided by their healthcare provider in order to ensure the best possible outcome.
Regular follow-up appointments may also be necessary in order to monitor the success of the treatment and make any necessary adjustments. In general, however, most individuals are able to enjoy improved circulation and reduced symptoms following varicose vein treatment.