Varicose veins are a common condition that occurs when the blood vessels in the legs become enlarged and twisted. They can appear blue or purple and often protrude from the skin's surface, causing discomfort and pain.
Varicose veins typically develop due to weakened or damaged valves in the veins, which prevent blood from flowing properly. This causes blood to pool in the affected area, leading to swelling and inflammation.
Varicose veins can also be caused by factors such as pregnancy, obesity, genetics, and prolonged standing or sitting.
While they are not usually a serious health concern, varicose veins can cause discomfort and may lead to complications such as blood clots or ulcers if left untreated.
Symptoms Of Varicose Veins
Symptoms of varicose veins are usually visible and can cause discomfort. The veins appear enlarged, twisted, and bulging on the skin surface, especially in the legs and feet. The affected area may also feel heavy, achy, or painful.
Itching or burning sensations are common too. Swelling around the ankles is another symptom that may occur after prolonged standing or sitting. Varicose veins can lead to skin changes such as discoloration, dryness, and thinning.
In severe cases, they may cause leg ulcers that can be difficult to heal. If you experience any of these symptoms, seek medical attention as soon as possible to prevent further complications from developing.
Causes Of Varicose Veins
While varicose veins can occur in anyone, they are more common in women, older individuals, and those who are overweight or have a family history of the condition.
The primary cause of varicose veins is weakened or damaged valves within the veins that prevent blood from flowing properly back to the heart. When these valves fail to function correctly, blood pools in the veins and causes them to enlarge and bulge.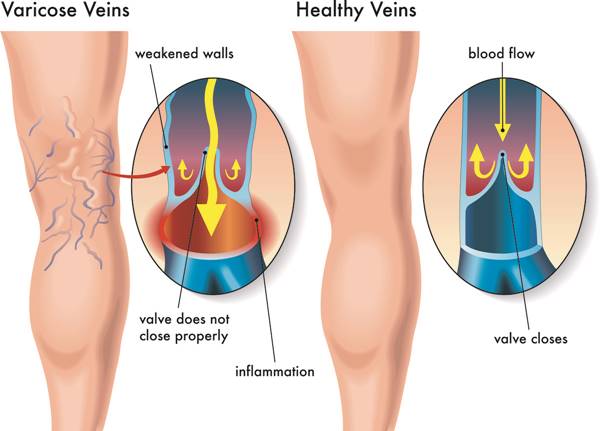 Other factors that can contribute to varicose veins include prolonged standing or sitting, pregnancy, hormonal changes, and a sedentary lifestyle.
Treatment Options For Varicose Veins
Treatment options for varicose veins depend on the severity of the condition. Mild cases may be managed through lifestyle changes such as weight loss, regular exercise, and avoiding prolonged standing or sitting. Compression stockings may also be recommended to improve blood flow and reduce swelling.
For more severe cases, minimally invasive procedures such as endovenous laser therapy (EVLT), radiofrequency ablation (RFA), or Sclerotherapy may be recommended. These procedures involve inserting a thin tube into the affected vein and using heat or chemicals to close it off, redirecting blood flow to healthier veins.
In rare cases, surgery may be necessary to remove large varicose veins. It is important to consult with a healthcare provider for an individualized treatment plan based on your specific case and medical history.